Cuisine & Audace is now FREE !
Plan and organize your events and receptions without a caterer
Cooking video lessons, cooking tips from a professional chef and shopping lists to always have your receptions and events without a caterer!
Discover
Celebrate your events and receptions
with ease
Manage your cooking budget
Manage your cooking expenses with a shopping list and catering quantities guideline per person.

Save time in the kitchen
Spend less time in the kitchen but more with your guests and enjoy a delightful cocktail or apertif in their company.

Table service tips
Cooking meals for a crowd or large groups of 10, 20, 100 persons has never been easier.

Cook for large groups, events or receptions without a caterer but with the help of a french chef
Like 79% of French people, you enjoy cooking when you receive guests at home. So why not start cooking yourself your family meals, group meals, receptions and even your wedding buffet?
Chef and caterer, Joss, creator of Cuisine & Audace, is convinced that everyone can cook for large groups of 10, 20 or even 100 people, without a caterer. Thanks to our concept, learn how to prepare your reception meal yourself through cooking video recipes, cooking techniques and professional cooking tips. The key: managing your cooking budget, save time in the kitchen and delicious catering recipes!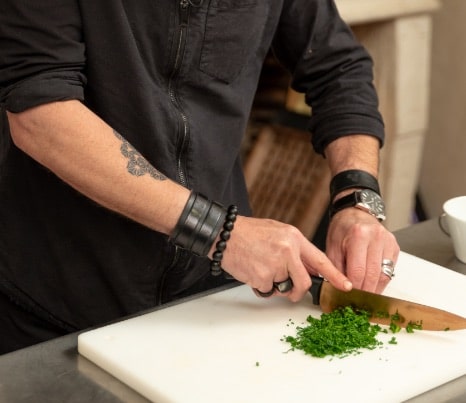 How does the subscription plan work?
01
Choose from the menu
Subscribe and choose your first menu from over 45 tasty recipes to organize your events and receptions without a caterer.
02
Learn how to cook
Online cooking recipes, cooking videos, chef's cooking tips and techniques, a complete printable grocery list items and food portions calculation for the number of guests and the type of event you host.
03
Cooking tips and techniques
Access exclusive premium content from chef Joss Geneste: chef's cooking tips and techniques, cooking methods explained, tips for entertaining and serving dinner guests, fine dining etiquette...
04
Choose a new menu
Receive a new credit each month and exchange it for the reception menu of your choice.
05
Add credits
Add additional credits of € 3.90 per unit to unlock new cooking recipes whenever you want.
06
Manage your subscription
Cancel or pause your subscription at any time while continuing to access the menus you have purchased.
Self-Catered Event
and Reception Menus